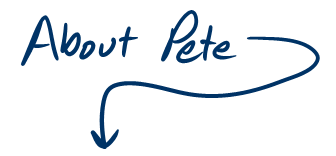 I was born in Connecticut in 1952. My wife and I met when we were in high school, and opened our first business together at age 17. Laura & I got married that following year. After college we moved to Montana and continued in the same business, which was making whole-wheat bread. The bakery was quite successful, and it grew over time into a nationwide franchise of bakeries, which we sold in 2001.
Great Harvest Franchising was unique — and still is — in that it specifically allowed the individual bakeries near-total freedom to innovate. Obviously this makes uniformity harder to achieve than with a standards-based franchise like Subway or McDonald's. Instead of monitoring and enforcing standards to keep everything flying straight, we were able to free-up all of that time and money and focus 100% of the business's energy in support of a community of franchisees who freely shared ideas and learned from each other. It worked, and the business is still going strong today.
Laura & I still live in the same hometown where Great Harvest is headquartered, but we have no connection with the business now other than friendship. The experience of building and selling a business like that has strongly shaped who I am today. Aside from the obvious general business skills like budgeting and hiring, I think there are three things I got from Great Harvest that are important to clients of Transrio:
1) Business DNA. I've been in business since I was a kid. I'm completely unable to think any other way. I don't actually want to think any other way. I believe in the basic goodness of business, and I think business is usually the most honest and efficient way to organize a lot of people around achieving any big goal or solving any big problem. That basic appreciation for business isn't pasted on, it's what I do and who I am.
2) Franchising. I love franchising, I had a lot of fun doing it, and I believe it's a very powerful model for taking something that works, and scaling up quickly. Franchising isn't quite as easy as it looks. It's a unique way to organize business, and it demands a different way of thinking, a different skill-set. Franchisees aren't employees, they aren't managers. I've seen excellent businesspeople who were super-successful in a non-franchise background, who got attracted to the power of franchising, tried to do it, and stumbled — it's a whole different culture. Franchising isn't better, or worse, it's just different. Applied to the right business concept, it's a great way to expand. I grew up in franchising, I did nothing but franchising all my business life.
3) Knowledge Management. Great Harvest has a unique learning-community structure and culture. Without standards to enforce, our survival depended on this open, quick-learning style. Along the way we picked up effective tools and tricks to make it work. This pressure to manage knowledge well has grown into a lifelong interest of mine. Show me a great business, and I'll show you some people who understand KM, knowledge management, whether they call it that or not. It isn't enough anymore to manage the money and the marketing, modern businesses live or die by their knowhow. I love studying what works in knowledge management, and I have a personal tendency to view most business problems from this angle.
That's the quick overview on Pete :-)
For anyone who would like more detail, I posted an informal business resume, here.