September 25, 2008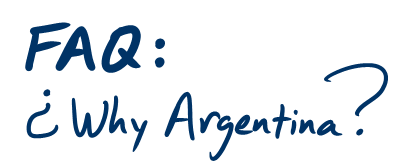 I'm gradually cranking through these FAQs. Here's the latest:
Why Argentina?
I hope to have this job for the next 20 years. I knew at the start that I would need to specialize in one country, because Transrio is small, and has to keep its focus. The countries I know best are the United States, Bolivia, Mexico, and Argentina. Of the three Latin American countries Argentina has by far the best feeling for me overall, based on what I'm hoping to do with Transrio.
I love Bolivia, but establishing a business there right now feels like fighting somebody else's battle. I love Mexico, and it would be almost the opposite of Bolivia — very easy to do business there. It's cheap to get to, and as a country it's officially Open for Business. But it feels to me like there is so much happening cross-border with the United States that Transrio would maybe get drowned out in the confusion. Mexican business people already know how to get what they need from the United States. I'm thinking Transrio wouldn't have as many opportunities to be uniquely useful.
Argentina, on the other hand, is a whole different case. It (more…)
Filed by Pete under Progress notes
No Comments